5379 Lyons Road #462 Coconut Creek, FL. 33073
OUR MISSION
We are a Non-profit Organization Melody's N.P.O. is a non-profit humanitarian organization, helping children with Type 1 Diabetes and orphans, by providing medical care, shelter, food and education, in the US & around the world.
Learn More
OUR STORY
Melody herself, still a little girl, was diagnosed at the age of 6 with Type 1 Diabetes. Through her situation and research for resources, she became very concerned to the reality of life, living condition and needs of other children.
Learn More
Why Chose us
Melody was diagnosed with Type 1 Diabetes at the age of six, when she was still a young kid. She became highly worried about the realities of life, living conditions, and needs of other children as a result of her circumstances and her hunt for resources.
WHO WE ARE
Melody's N.P.O. is an independent non-profit humanitarian organization without borders and committed to helping children regardless of their race, gender, religion, and origin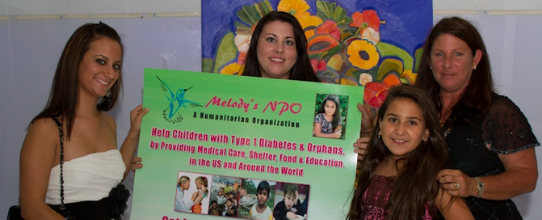 Providing Insulin pumps to avoid daily multiple injections, until a cure is found.
Providing medical supplies to disadvantaged children without the resources.
Providing shelter by building orphanage facilities around the world.
OUR GALLERY
What's My Purpose in Life? Share our latest project gallery of last 12 years
Subscribe now
Receive weekly newsletter with educational materials, new courses, most popular posts, popular books and much more!
OFFICE ADDRESS
Melody's N.P.O.
5379 Lyons Road #462 Coconut Creek, FL. 33073
Phone
Email
Your message was sent successfully.
Sorry!Something Went Wrong.